Electric Lawn Mower Reviews
Electric lawn mowers are becoming increasingly popular. This is due to several factors, including the waning popularity of high maintenance, messy gasoline lawn mowers, as well as a growing cultural interest in "Going Green."
When it comes to electric lawn mowers your options essentially break down into battery-powered, sometimes known as cordless, and corded lawn mowers. Both types of mowers use electric current and special magnets to affect the drive shaft of the cutting blades to produce torque. Each has its own strengths, which can factor into the type of electric lawn mower that is best for your yard.
Of course, all the recent advancements in electric technology and advancements in manufacturing innovation has crowded the electric lawn mower niche. If you are going to find the best electric lawn mower for your yard, you are going to need to ask a few important questions and keep some essential factors in mind.
Just Show Me The Mowers
How Do Electric Lawn Mowers Work?
Electric lawn mowers use the special physics of electromagnetism. Some have internal brushes that create a modest physical connection that serves to propel the drive shaft of the electric lawn mower's cutting blades. Others use a brushless electric motor that exclusively drives the shaft of the cutting blades.
Which Is Better A Brushed Or Brushless Electric Lawn Mower Motor?
Since a brushless electric lawn mower doesn't have any internal brushes making a physical connection, they tend to produce more immediate power to the cutting blades. This has several advantages such as:
Greater power
Immediate power
Reacts better to the condition of the grass
Less overall maintenance
An overall longer motor life
Quiet operation
Less heat produced by the motor
Though with all this superior innovation and operation, brushes electric motors and the electromagnetic drive system tend to cost a little bit more than their brushed electric motor siblings. Ultimately, if you are working with a limited budget a corded or battery-powered electric lawn mower with a brushed electric motor might save you some money.
Though if you do have the budget space available, a brushless electric motor is well worth the extra investment. Not only is it quieter and more efficient, but it also produces less heat, which prolongs the electric motor's life.
How To Tell Power In An Electric Lawn Mower?
There are a lot of technical terms that get thrown around when you read the specifications of an electric lawn mower. Though when it comes to power the higher voltage the more power the electric lawn mower will have to cut grass. In the case of a mulching mower, or a lawn with especially thick grass, you will want to prioritize the one with the higher voltage. This could be the deciding factor if you are struggling to choose between two different lawn mowers.
How Big Of A Lawn Can You Cut With A Corded Electric Lawn Mower?
A corded electric lawn mower is somewhat limited in the overall range. This is due in part to the ability of a consumer-grade extension cord to carry sufficient charge over a distance greater than 50 feet. With a corded electric lawn mower, going beyond 50-feet from an outlet by interconnecting multiple consumer-grade extension cords will reduce overall performance, and could potentially damage the electric motor.
You can try to extend the overall range of a corded electric lawn mower by using a commercial-grade extension cord. This is a more significant investment, but these thicker gauge power cords can carry a greater charge over a greater distance.
It's important to note that the 50-foot distance is from the nearest outdoor electrical outlet. You can extend the range of your corded electric lawn mower by using multiple outlets. Depending on your outlets, the location of your garage, and out-buildings, you might be able to cut up to a quarter acre with a corded electric lawn mower.
How Big Of A Lawn Can You Cut With A Cordless Electric Lawn Mower?
With a cordless electric, or battery-powered lawn mower your range is no longer limited by the distance an extension cord can carry a charge. Though that's not to say that cordless mowers have the same kind of range as a gasoline lawn mower of the same size.
Here again, voltage comes into play, but in a slightly more detailed way. With a battery-powered lawn mower, the voltage rating indicates the number of individual battery cells is in a single battery pack. This is especially important with lithium-ion batteries that you find in most high-quality cordless electric lawn mowers.
The voltage rating also indicates how those cells are connected together. In general, the higher the voltage rating the more cells that are in the battery pack. This means that a 40 Volt battery pack effectively has double the cells of a 20 Volt battery pack.
It's also worth noting that the higher the voltage rating of the battery the more power it can supply on demand. So, a higher voltage battery pack system will really shine in times when you need to cut thick grass. They are also preferable for a self-propelled electric lawn mower.
How Do You Tell The Battery Capacity Of A Cordless Lawn Mower?
With a cordless electric lawn mower, the best metric of battery capacity is the Amp Hour rating. The higher the Amp Hour rating is, the more charge the battery can store. This then translates into longer overall run time. In most battery-powered electric lawn mowers a higher Amp Hour rating also leads to better performance. It's especially important if your lawn has a thick type of grass like Bermuda or Buffalo grass.
If you are comparing between two seemingly similar cordless lawn mowers, you can estimate the run time of each by multiplying the voltage rating times the Amp Hours. The number will give you a watt-hour rating.
Are Lithium-Ion Batteries Better Than Lead-Acid Lawn Mower Batteries?
In the past, lead-acid and similar gel batteries were consider the standard in lawn mower batteries. They rely on a chemical reaction to store electric charge. Unfortunately, the battery components tend to degrade faster and can tend to fade in performance as the overall charge is depleted. This means you aren't getting the same amount of charge going out to the device at 25% that you could get at 100%. Once discharged they tend to take multiple hours to fully recharge.
In recent years, a sweeping evolution in battery technology and manufacturing has propelled lithium-ion batteries to the forefront. This type of battery tends to charge quickly. In the case of most cordless lawn mower batteries, they can usually be fully charged in 45 minutes to an hour.
Lithium-ion batteries also tend to discharge at a consistent rate regardless of the remaining charge. This means it will deliver the same level of power, on-demand, regardless of if it's at maximum charge or 25% charge.
How Long Do Lithium-Ion Batteries Last?
Lithium-ion batteries like you find in cordless electric lawn mowers also tend to have a longer overall life span. Most can last up to three years on average with a few lasting up to five or even six years. This helps to lower the overall cost of ownership.
What Is The Best Type Of Battery Charger For A Cordless Lawn Mower?
Built-In battery chargers on cordless lawn mowers essentially have the charger and batteries permanently installed. When you need to charge them you simply plug in the lawn mower to let it charge itself. An indicator light tells you when it's reached maximum charge, and you unplug it. The lithium-ion batteries will then hold the charge until you are ready to use it again.
A traditional battery charger has you remove the batteries from the mower and insert them into a charging device. It delivers a continuous charge. An indicator light will tell you when it's at a full charge you can unplug the charger or remove the batteries and insert them back into the lawn mower.
One potential problem with a standard battery charger is that you run the risk of accidental overcharging. As the battery reaches maximum capacity the continual charge and heat generated by a traditional battery charger can start to damage the battery and potentially shorten its lifespan. While you can leave a battery on the charger overnight, you don't want to leave it charged for multiple days or an extended amount of time.
A "Smart Charger" addresses concerns about accidental over-charging with an on-board monitoring software system that monitors the battery's charge. It then keeps the battery overcharging, while also reducing the heat. This type of charger does cost a little bit more than a traditional battery charger, though it does ultimately save you money by maximizing your battery's lifespan.
Does It Cost Less To Run An Electric Lawn Mower Compared To Gasoline?
There are a lot of different ways that corded and cordless electric lawn mowers help you save money. Right off the bat, you have a lot less maintenance to deal with compared to gasoline. You don't have to change the oil or worry about problems with the carburetor or spark plug.
Electric lawn mowers also tend to have a much lower cost per unit to operate than gasoline, in that electricity is cheaper than gasoline. You also don't have to make runs to get more fuel or spend money on a separate gas tank for the lawn mower. Electricity in your home is also more accessible, so you are also saving time.
The long-term cost of ownership for electric lawn mowers is also less than gasoline. Many corded and cordless electric lawn mowers can last eight to ten years, which is rarely the case with gasoline lawn mowers.
What Is A 2-in-1 Electric Lawn Mower?
Both corded and cordless electric lawn mowers have models that are described as being a 2-in-1. This means that the lawn mower can be set up for side discharge or another feature such as bagging or mulching. This is a handy way to keep cut grass clippings from drying out into thatch which can suffocate your turf.
What Is A 3-in-1 Electric Lawn Mower?
This is the next step up from a 2-in-1 where the electric lawn mower can be set up to side discharge as well as bagging or mulching. Some can even be set up to mulch and bag harvested grass clippings. This makes it easy to add fresh grass clippings to your garden or compost pile where they will quickly decompose.
Does A Mulching Feature Affect The Performance Of An Electric Lawn Mower?
Mulching features do draw some additional power from the lawn mower's electrical system. With a corded electric lawn mower, you likely won't notice a difference in performance, as they get direct power from the extension cord and are designed to handle the high RPMs of the mulching effect.
In the case of a cordless electric lawn mower, a mulching accessory will draw more power from the onboard lithium-ion batteries. This won't affect the cutting performance, though you will likely notice the overall run time of your cordless electric mower is less when set up for mulching.
Does Self-Propulsion Affect The Performance Of An Electric Lawn Mower?
A lawn mower self-propulsion system uses some of the onboard charges from the battery or the direct current of the power cord to drive them forward or rear wheels. This is a great option for tackling a yard with hills or a lawn of half an acre or more.
With a corded electric lawn mower, you won't notice a change in cutting performance from an onboard self-propulsion feature. It's already been engineered to account for this. In the case of cordless electric lawn mower, you will likely notice that the lithium-ion batteries don't run as long when self-propulsion is engaged. Though the cutting performance should remain unchanged.

Popular Electric Lawn Mower Manufacturers
Electric motors are very easy to make, which means that lawn mower manufacturers have made a very strong effort to offer a wide range of electric lawn mowers. There are a few prime manufacturers to consider when shopping for the best electric lawn mower for your yard.
Black + Decker
They started out as a home appliance and power tool brand. Though Black & Decker has since evolved into the electric lawn mower industry. They have a lot of nicely priced entry-level models with the quality you want to see for a solid return on your investment. Some of their models have sparse warranty coverage. Though a lot of online retailers do offer affordable additional protection programs that are well worth the money.
$129.21
$169.99
in stock
3 new from $129.21
2 used from $96.91
as of September 7, 2023 2:23 am
$179.00
in stock
5 new from $179.00
as of September 7, 2023 2:23 am
Earthwise
Earthwise is an ecologically conscious brand of electric lawn mowers and other outdoor appliances. They started out with a line of quality manual reel mowers, and have since evolved to include quality electric lawn mowers. Their models tend to have friendly price tags, with a reputation for quality, as well as good warranty protection.
$179.99
in stock
2 new from $179.00
as of September 7, 2023 2:23 am
EGO
Ego is a mid-to-high end electric lawn mower manufacturer. Their models tend to bear a slightly higher price tag. Though they do make a very serious statement about build quality by backing nearly every model in their electric lawn mower line with superior warranty coverage.
Greenworks
Greenworks has spent recent years growing into an industry leader in both corded electric and cordless battery-powered lawn mowers to accommodate nearly every niche. Their lineup also includes a wide range of electric lawn equipment and other power tools. If you are thinking about getting a cordless electric lawn mower and you already have some Greenworks lawncare tools, you might be able to swap the lithium-ion batteries for extended run time.
It's also worth noting that a lot of Greenworks electric lawn mowers are designed with special safety and storage features. A Greenworks electric lawn mower might be a great option if you have limited storage space in the garage or your tool shed.
Makita
Makita started as a power tool manufacturer who offered consumers as well as commercial-grade equipment. They have an extensive lineup which includes a wide range of heavy-duty lithium-ion batteries. Many of which are interchangeable with their cordless electric lawn mowers. If you own several Makita power tools, you might be able to use the batteries interchangeably for added run time.
Ryobi
Ryobi is another electric power tools company that has set deep roots into the electric lawn mower market. They have a lot of thoughtfully engineered electric lawn mowers with superior build quality throughout their line. Ryobi's entry-level electric lawn mowers tend to be a great value, and their high-end electric lawn mowers often carry robust warranty protection coverage.
Sun Joe
Sun Joe is a relatively new name in the electric lawn mower niche. The bulk of their lineup carries nice price points. They have several attractive entry-level electric lawn mowers for people on a tight budget. Though their lower-end models have earned complaints about material build quality due to the plastic parts. Many of the models in their line tend to carry better warranty protection. This is a strong statement about the increased focus on build quality.
Worx
Worx have positioned their line to appeal professional as well as a residential consumer. They also have an extensive line of power tools, electric hand tools, and electric lawn equipment. Some of which have batteries that are interchangeable with some of their electric lawn mower models. Worx has a reputation for producing heavy-duty tools at friendly prices. They're another great place to start shopping for your first electric lawn mower.
Other Electric Mowers to Consider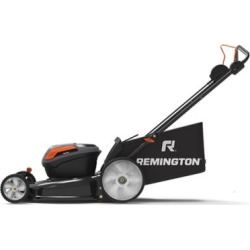 Conclusion
The electric lawn mower niche is an increasingly crowded place with a lot of manufacturers offers a wide variety of models. The overall size of your yard is a great place to start filtering out your options. Homes with a small yard of a quarter acre or less might lean toward a corded electric lawn mower. If your lawn is larger than you can reasonably reach with a 50-foot long extension cord then a cordless electric lawn mower with a lithium-ion battery pack is probably the best option.
If you have children who take naps during the day, or you have neighbors close by you might want to invest the extra money in an electric lawn mower with a brushless motor. They are quiet, powerful, and produce less heat. Not only will it keep the noise down, but you might enjoy a longer overall life span out of the electric lawn mower.