Gas Lawn Mower Reviews
Gasoline-powered lawn mowers are the old standby lawn mower that has remained very popular for decades. They tend to produce more power and torque than other mowers which lets them chew through grass vigorously.
Just Show Me The Mowers
What Are The Gasoline Lawn Mower Engine Types
There are two different types of engine to consider, each has its own pros and cons. Two-stroke lawn mowers are a little old-fashioned, but they tend to be more affordable. Four-stroke lawn mowers are increasingly popular. They run very much like the engine in your car, though they do tend to cost a little more.
Two-Stroke Gasoline Lawn Mower Engines
Two-Stroke or two-cycle lawn mower engines used to be the most common type of lawn mower engine. They tend to produce a lot of power, which can be imparted directly to the drive shaft of the cutting deck. Two-stroke lawn mower engines don't need oil changes. Instead, you mix special two-cycle oil for an air-cooled engine into the gasoline, at a specific ratio for that particular engine.
The problem with two-stroke lawn mower engines is that they tend to gum up the carburetor and foul the spark plugs easier than their cleaner running four-stroke siblings. They also tend to smoke more and are less fuel-efficient.
Though two-stroke lawn mower engines do tend to cost less. So, you'll see a slightly friendlier price tag in the initial purchase. Just plan on needing to replace the spark plug every year or two, and buy a can of carburetor cleaner spray.
Four-Stroke Gasoline Lawn Mower Engines
Four-stroke lawn mower engines have really grown in popularity over the last two decades. They are very similar to the engine in your car in the process of how they produce power. They also tend to be much more fuel-efficient than two-stroke lawn mower engines.
You don't have to mix the oil with fuel. You simply fill the gas tank and make sure that there's sufficient oil on the dipstick. Their combustion process also tends to be much cleaner, which means you'll have an overall lower cost of ownership. Four-stroke lawn mower engines also tend to produce less smoke.
Four-stroke lawn mowers typically cost a little more in the initial purchase price. With most, you need to change the oil seasonally or every 50-hours of operation. Though some newer four-stroke models have a check and fill the oil system, that doesn't require any oil changes.
How To Start A Gasoline Lawn Mower
Gasoline lawn mowers have gotten a little bit of a bad reputation for being difficult to start. Especially with older or poorly maintained models. Newer lawn mowers are better engineered for easy starting, if you take care of them well, they will start reliably for years to come. Though there are a few different ignition systems to consider.
Traditional Choke Lawn Mowers
Traditional gasoline lawn mower engines have a recoil pull-start, a choke, and a primer. To start them you press the primer bulb 3 to 5 times to force some gas into the ignition chamber. Then turn the choke on. Hold down the safety lever on the handlebars and pull the recoil. The engine should start in the first one to three pulls.
Auto Choke Lawn Mowers
Auto choke lawn mowers take the concerns about operating the choke out of your hands. Some don't even require you to press the primer. You simply set the lower in the start position, and pull the recoil. When the engine warms up sufficiently the automatic choke turns itself off.
Electric Start Lawn Mowers
Some electric start lawn mower has their own automatic choke and primer system. Though some still need you to press the primer 3 to 5 times and turn the choke on. You then plug the lawn mower into a standard electric outlet and press the start button. A small internal electric starter motor will then start to crank the engine until it fires up. You can then unplug it and operate it like normal.
$419.55
out of stock
as of August 18, 2023 5:05 pm
Which Is Better: A Push Or Self-Propelled Lawn Mower?
In the past gasoline lawn mowers were walk-behind push models. The weight of the engine and the size of the wheels influence how hard or easy it is to move the lawn mower. Larger diameter rear wheels also make these push mowers easier to move, and they help to move across uneven ground.
Self-propelled lawn mowers have a small internal motor that drives either the front or the rear wheels. This takes a lot of the effort out of having to move the lawn mower across your lawn. Variable speed self-propelled lawn mowers let you set the speed to your natural walking gait. They also let you slow down for times when you need to carefully weave around trees and landscaping features.
Tips For Maintaining A Gasoline Powered Lawn Mower
There is no doubt about it, gasoline-powered lawn mowers will require more care and maintenance than their electric counterparts.
Oil Changes
Four-stroke lawn mowers need to have a complete oil change every 50-hours or operation, or every spring, whichever comes first. These days most lawn mower manufacturers make engines that use standard SAE 10W30 or 5W30.
With a two-stroke lawn mower engine, you don't have to worry about oil changes, as you do with a four-strong engine. The tradeoff is that two-stroke lawn mower engines tend to get gummy carburetors and spark plug problems as they age.
Fuel & Fuel Filters
Whenever possible, you want to use high octane unleaded gasoline in a four-stroke lawnmower. It's also a good idea not to let the gas tank run dry. Dust, pollen and other debris can sometimes find it's way into the gas tank, which can be sucked into the fuel system and clog the fuel filter.
Some gasoline-powered lawn mowers have fuel filters that are built into the fuel line and can be accessed externally. If you notice your lawn mower is down on power, it might be that you need to replace the fuel filter.
However, a lot of newer gasoline-powered lawn mowers have internal fuel filters that are built into the fuel tank. If the filter becomes severely clogged, you will need to take the fuel tank apart or bring the lawn mower to a certified small engine mechanic.
If your lawn mower has an internal fuel filter, you can help maintain it by always using high-quality fuels, that are less likely to have impurities. You should also avoid running the tank dry, as this could suck tank deposits into the fuel filter.
Air Filters
You should clean your gasoline lawn mowers air filter every spring. This can be as simple as spraying it down with canned air or a spray nozzle from an air compressor. If summer conditions have been overly dusty, you might want to clean the filter again to make sure sufficient airflow is reaching the combustion chamber. Poor airflow can contribute to the carburetor and spark plug problems over time.
Frequently Asked Questions
Which Is Better: A Two-Stroke Or Four-Stroke Lawn Mower?
Some people are die-hard two-stroke engine enthusiasts. They usually own weed trimmers, chainsaws, and other gasoline power tools that run the same ratio of mixed gasoline. Two-stroke lawn mowers tend to cost less, but you'll need to factor in the cost of cleaning the carb and replacing the spark plug more often. They also tend to smoke more and make more noise. If you mix the fuel and oil at the wrong ratio it could damage the pistons or clog up the combustion chamber.
A four-stroke lawn mower costs more in the initial purchase, but they are quieter and tend to have less carburetor and spark plug problems. You do have to change the oil periodically. The engine tends to last longer and runs quieter than a two-stroke of the same size. This makes them increasingly popular.
What Does The CC Rating Mean?
Gasoline-powered lawn mowers measure the volume they displace in the cylinder in cubic centimeters. The bigger the CC number the more combustion potential the engine has the more power it can produce in a single stroke cycle. In general, you want a higher CC rating for heavier lawn mowers, self-propelled lawn mowers, or if you have a lawn with thick grass.
How Much Gasoline Does A Lawn Mower Use?
This can vary depending on the CC rating of the engine. The larger the CC rating the more gasoline it will burn through in any given stretch of time. On the average most gasoline lawn mowers use between 2 to 3 gallons of fuel in one hour.
What Is A 2-in-1 Lawn Mower?
The term 2-in-1 means that the lawn mower has a side or rear discharge as well as an optional mulching or bagging feature. In the case of a bagging lawn mower it will most likely be a rear discharge.
$280.00
out of stock
4 new from $280.00
as of August 18, 2023 5:05 pm
$1,199.00
out of stock
as of August 18, 2023 5:05 pm
What Is A 3-in-1 Lawn Mower?
The term 3-in-1 indicates that the lawn mower can be set up for side discharge, mulching or bagging. In some cases it can even be set up to bag mulched grass clippings. This is a great way to effectively remove harvested grass clippings before they have a chance to build up into dry, turf-choking thatch.
Are Mulching Lawn Mowers Good?
A lot of push and walk-behind gasoline lawn mowers come set up for side discharge of the harvested grass clippings. The problem is, if you're not mowing frequently enough, then long grass clippings are left behind, which can dry out and turn into thatch. As time goes on significant thatch build-up can eventually choke out your turf preventing water, nutrients, and air from feeding the roots.
With a mulching mower, the RPMs of the cutting blades ramps up to essentially mince the harvested grass clippings. The tiny particles produced are far more likely to decompose, rather than dry out into choking thatch. This even adds a little boost of nitrogen to the soil, to help your lawn grow vigorously again.
Are Bagging Lawn Mower's Good?
Bagging is another alternative answer to the thatch problem. The harvested grass clippings are diverted into a rear bagger. When the bag is full, you simply swing by your garden or compost pile to empty it out. It's a great way to feed nitrogen into your compost or side-dress garden plants to prevent weeds from growing. There are even some 3-in-1 lawn mowers that mulch the grass clippings and then divert them into the bagger.
It's also worth noting that there are a few different takes on how to make a bagger. Some cloth baggers have a knack for letting dust and pollen through the weave of the fabric. This can be a real problem for people with allergies. To answer this some manufacturers make lawn mower bags with "Dust Proof" or "Dust Resistant" fabric. There also some rigid plastic bags that don't let any air or dust pass through them.
What Does A Lawn Mower Deck Washing System Do?
Deck washing systems are increasingly popular on high-quality gasoline lawn mowers. Excess grass clippings and other organic debris that gets trapped under the deck can clog up, and even cause rust. To use a deck washing system, you simply hook up a standard garden hose and the pressure of the water sprays away the grass clippings, keeping the underside of the cutting deck clean.

What Are The Best Gasoline Lawn Mower Brands?
There are several gasoline lawn mower brands to consider. While some of the older ones like Toro have a long reputation for quality, some newcomers in the market are well worth your hard-earned money.
Craftsman
Craftsman is another well-known brand that once had a very strong connection to Sears. Their warranty protection has waned a little bit in recent years. Though they still offer strong, competitive warranty coverage for their high-end gasoline lawn mowers, which makes a strong statement of build quality. Their self-propelled lawn mowers have a reputation for being well-engineered and have the power to handle hilly lawns and uneven turf.
Cub Cadet
Cub Cadet is another well-established name in the lawn mower industry. They have a line of commercial-grade gasoline lawn mowers that are meant to meet the needs of professionals, yet still within a comfortable price range for the average homeowner. With Cub Cadet, you really are getting the best of both worlds. While they might be priced on the high-end of the retail spectrum, you're still getting a great lawn mower that very likely will give you a full return on your investment.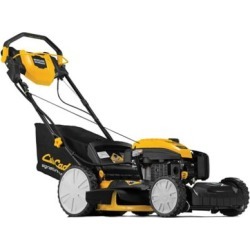 Honda
As a Japanese car company, Honda has expanded into just about every gasoline engine niche imaginable, including gasoline-powered lawn mowers. They have a long-standing reputation for making small engines that are easy to start, run quiet, and have the material quality to last for years. They even tend to offer superior warranty coverage. Of course, this all translates into a higher price tag for the initial purchase. Still, Honda is one of your best bets for seeing a strong return on your investment.
$1,287.22
in stock
as of August 18, 2023 5:05 pm
Husqvarna
As an international brand, Husqvarna has spent decades earning a nice chunk of the lawn mower market share in the United States and Canada. This is thanks in large part to their dedication to superior engineering principles, material selection, and manufacturing innovation. Husqvarna has put a lot of effort into making gasoline lawn mowers that are easy to start.
Jonsered
Jonsered has a reputation for installing powerful engines in their durable lawn mowers and other outdoor gasoline-powered equipment. They also tend to be relatively easy to start. They even put a lot of thought into giving most of their models ergonomic controls. Though if there's a common complaint it's that they don't tend to infuse their lawn mowers with many bells and whistles. This does help improve their price tag a little bit in the process.
Toro
Toro is one of the strongest and most well-known brands in the gasoline mower niche. They have a reputation for good build quality and engines that are easy to start. They also tend to offer nice warranty protection on their higher-end gasoline lawn mowers. Though one drawback with Toro is that you do tend to pay a little bit more for the name.
Troy-Bilt
Troy-Bilt has a reputation for making heavy-duty gasoline lawn mowers that are meant to last. However, all that robust engineering sometimes translates into a gasoline lawn mower that is a little bit heavier than its competitors. They're arguably a better choice for a self-propelled lawn mower rather than push mower that you walk behind.
Other Great Gas Mower Options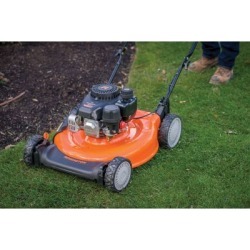 Conclusion
There certainly are a lot of great gasoline lawn mowers on the market today. While electric and robotic lawn mowers have certainly carved out a hearty chunk of the market share, there are still people who prize the power of a gasoline engine and are willing to put in a little extra maintenance work.
If you're in the market for a gasoline-powered lawn mower, you'll want to factor in the engine size for the type of grass you have. If you're going to go with a self-propelled lawn mower to help you tackle rough terrain and steep hills, you'll certainly want to prioritize an engine with an above-average CC rating.
Once you've dialed in the size and type of lawn mower, you'll want to also think about special features. If frequent mowing isn't your thing, you might want to lean toward a mulching or bagging lawn mower. This will help take the common problem of thatch buildup out of the lawn care equation. If anything it will save you time in money in eliminating the need for seasonal aeration.