Push Reel Lawn Mower Reviews
Reel mowers, which are sometimes also referred to as "Manual Lawn Mower" or "Traditional Push Mowers" don't have any sort of on board power source. With these lawn mowers, you the operator are the propulsion system.
For some people this conjures up mental images of their grandfather breaking a sweat trying to shove a dull-bladed, usually rusty, manual mower through tall grass, cursing and panting along the way. It was exactly these build quality and engineering problems that allowed reel mowers to fade away quickly with the advent of gasoline and electric lawn mowers.
Today reel mowers are enjoying a vigorous renaissance! This is thanks in large part to impressive improvements in materials, engineering, and manufacturing innovation, as well as the growing value of "Going Green." This means that today, you can find a reel lawn mower that is much lighter than your grandfather's predecessor, and easier to use than you might think.
Though, you will still be facing a little bit of a workout. For some, this is completely fine. Indeed, some people simply look at cutting their grass with a reel mower as counting for their light cardio workout for the day.
You might be impressed to hear that the reel mower marketplace is a little bit flooded with options. To truly find the best reel mower for your yard, we're going to need to roll up our sleeves to take a closer look at the finer points of how a reel mower works, as well as asking some important questions. This will give you the knowledge base you need to find the best reel mower for you.
Just Show Me The Mowers
How Does A Reel Mower Work?
Reel mowers, sometimes called manual lawn mowers don't have the rotating cutting blades you find with gasoline or electric lawn mowers. Instead, they have helical blades that are integrated with the primary wheels.
As you push the mower carriage forward the blades rotate and make contact with the grass and a durable strike plate. This replicates a sort of scissor effect that is both efficient and doesn't require the power of any sort of gasoline or electric engine.
Is A Reel Mower Hard To Use?
The old-fashioned reel mowers that your grandfather pushed around the lawn were arguably a lot of work. Fortunately, modern-day reel mowers have become lightweight, nimble, and when properly maintained are relatively easy to use. Though there is still a little sweat equity going into the equation. Still, you wouldn't feel any more exertion than you would taking a vigorous evening walk.
Are Reel Mowers Hard To Maintain?
For the most part reel mowers are relatively easy to maintain. They certainly require less effort to maintain than a gasoline lawn mower and are about on par with a corded electric lawn mower. You mostly need to make sure that all the moving parts are properly lubricated, and from time to time you'll need to tune and sharpen the cutting blades.
What Is The Difference Between Tuning A Reel Mower & Sharpening The Blades?
Tuning, which is sometimes referred to as "Adjusting" or balancing a reel mower's blades is more about adjusting the relationship between the way the edge of the spindle blade contacts the strike plate. With time and use it's natural for the relationship between the blades and the strike plate to change. Especially if you have a habit of letting your grass grow a little too long.
When this happens the blades might still be sharp enough to cut the grass, but the inefficient angle they meet the strike plate can do things like tear instead of cut the blades of grass. A severely out of tune reel mower might end up leaving a lot of uncut grass behind as they slip through the gap.
Fortunately, tuning the reel mower's blades is relatively easy. It usually calls for making some fine adjustments to a set of screws or small bolts. While you are at it, you can give the moving parts a quick spray with some penetrating lubricant like WD40 to keep everything moving smooth and easy.
Is It Hard To Sharpen Reel Mower Blades?
Reel mower blades are shaped differently than the rotating blades of traditional gasoline or electric lawn mower. This means they do take a little more finesse to sharpen correctly. Though if you keep your reel mower in proper tune, the blades will be less likely to dull or suffer from blade erosion. Taking the time to clear your lawn or sticks and stems will also reduce the chances of your reel mower blades being dinged or chipped accidentally.
While you can sharpen them with an angle grinder, you will find better results by sharpening your reel mower's blades with a fine-toothed mill file. With a little practice, you should be able to get your reel mower blades perfectly sharp in around 10 to 15 minutes. While you're at it, make sure to properly tune the relationship between the blades and the strike plate, as well as lubricating all the moving parts with a little WD40.
Are Real Mowers Expensive?
The initial purchase price is one of the more appealing things about a reel mower. Even a high-end reel mower tends to cost less than a low-end gasoline or electric lawn mower. Yet with proper technique, you can get the same or better-cutting quality!
Can A Reel Mower Cut Tall Grass?
Ideally, reel mowers work best if you mow your lawn frequently. The longer the grass gets the harder it will be for the cutting blades to maintain the proper relationship with the strike plate. As a general rule of thumb, you don't want to let your grass grow beyond 2 to 2.5-inches before cutting it with a reel mower.
If you absolutely need to tackle grass that has grown taller than 3-inches, you can start by setting the cutting height of your reel mower to the highest setting. Then make half passes. Once you've trimmed the grass down to around 2.5 inches high, you can mow it a second time at a much lower setting to get the grass back under control. This is a great method for tackling a lawn that may have gone wild on you while you were out of town.
How Big Of A Yard Can A Reel Mower Handle?
You might be surprised at how easy a reel mower is to operate. While there is a little bit of added effort to the process, you can still cut some significant square footage in a single mowing session without breaking a major sweat.
Still, if you ask most experience reel mower owners, they will tell you that once you go much beyond a quarter acre, the prolonged effort and time can get a little frustrating. If you do have more than a quarter-acre of lawn, you might want to break it up into two or perhaps three mowing sessions.
Can A Real Mower Collect Grass Clippings?
Thatch caused by leftover grass clippings that dry out and choke the turf is a real problem with a lot of lawns. Conventional gasoline and electric lawn mowers often deal with this problem via mulching or bagging accessories.
Some reel mowers have a frame designed to hold a modest-size collection bin. The harvested grass clippings then move into the rear collection bin as you walk rather than being deposited on the turf to dry out. If you have a compost pile or a garden you can use the clippings to give them a little boost of all-natural nitrogen.
Can A Reel Mower Be Used As A Mulcher?
Mulching mowers tend to use high RPMs to reduce harvested grass clippings into tiny organic particles that absorb or decompose directly back into the turf. While you can't get this kind of RPMs from a reel mower's blades, frequent mowing sessions can help keep your grass trimmed up neatly and will also create smaller pieces of grass clippings that will closely replicate the mulching effect of conventional gasoline or electric lawn mower.
How Often Should I Cut My Lawn With A Reel Mower?
The answer to this question can vary depending on the time of year and the prevailing weather. In general, a reel mower does better and your lawn will benefit more from frequent mowing every 5 to 7 days.
Though during the peak of the growing season, when the weather is warm, the days are long and the rain is plentiful, you might want to consider mowing more frequently. If the regional weather has been dry, and there's more in the coming forecast, you might want to leave your lawn a little longer. This will help preserve soil moisture in the turf.
The trick here is that reel mowers are most effective when dealing with grass that is less than 3-inches tall. If you live in the part of the country that is prone to frequent summer droughts, you might want to prioritize a reel mower with an adjustable cutting height. That way you can trim tall grass, while still leaving it a little bit on the long side during dry times.

The Best Reel Mower Brand Manufacturers
With the vigorous renaissance of reel mowers, a lot of traditional lawn mower manufacturers have thrown their hat into the ring. They are joined by some relatively new companies and brands that have a strong presence in the green marketplace. The following list of manufacturers is a great place to start shopping for your next reel mower.
American Lawn Mower Company
American Lawn Mower Company made its name over 125-years ago as one of the original reel mower manufacturers. Their experience means they know how to mind the fine details that go into making a high-quality lawn mower. So, it's no surprise that they often lead the field. They are one of your best bets for getting a reel mower with a strong return on your investment.
$69.99
in stock
2 new from $69.99
1 used from $66.49
as of August 31, 2023 3:12 pm
$105.00
$109.99
in stock
8 new from $105.00
2 used from $94.63
as of August 31, 2023 3:12 pm
$191.18
in stock
2 new from $191.18
as of August 31, 2023 3:12 pm
Earthwise
Earthwise is another ecologically conscious company that has made its presence known in the reel mower marketplace. Their models are nicely priced for entry-level homeowners who want to get a taste of the benefits of reel mowers. Yet there's still enough build quality and thoughtful engineering to keep you from feeling buyer's remorse.
$180.06
in stock
4 new from $180.06
as of August 31, 2023 3:12 pm
$219.99
in stock
as of August 31, 2023 3:12 pm
Fiskars
Fiskars has a strong presence in lawn care and gardening hand tools, so it's a natural evolution for them to show up in the reel mower renaissance. Their manual reel mowers have a reputation for superior blade strength and sharpness retention, as well as heavy-duty construction. Though some of their models are a tad bit on the heavy side.
$151.50
$225.99
in stock
3 new from $151.50
as of August 31, 2023 3:12 pm
$313.99
in stock
as of August 31, 2023 3:12 pm
Great States
Great States has a lot of reel mowers that look and feel a lot like models offered by the American Lawn Mower Company. They do their best to infuse all their models with the decent build quality, while also being mindful to keep the price tag as friendly as possible. This makes them a good choice for an entry-level reel mower.
$116.00
in stock
as of August 31, 2023 3:12 pm
Greenworks
Greenworks is best known for its extensive line of corded and cordless electric lawn mowers. Though they do have an underlying emphasis on being ecologically friendly, which ties in perfectly with the zero carbon footprint of reel mowers. They bring their reputation for quality manufacturing and engineering to bear with their lineup of reel mowers. Many of which include some type of bagger or grass collector.
$120.15
$193.63
in stock
1 used from $129.00
as of August 31, 2023 3:12 pm
$79.98
out of stock
as of August 31, 2023 3:12 pm
Remington
Remington seems to have designed their reel mower lineup to appeal to homeowners with small lawns and/or tight turns around landscaping features. Many of their reel mowers have smaller cutting paths, and wheels that are designed to make them very nimble. This also means they are lightweight and take little effort to operate. Another nice thing about Remington reel mowers is that they tend to come with very friendly price tags. If you have a small suburban lawn and you are looking to get into the reel mower revolution on a budget, Remington reel mowers are a great place to start!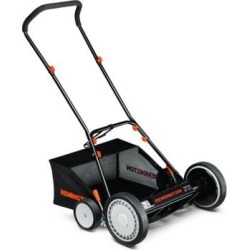 Scotts
Scotts is a company that might be known more for turf care products, grass seed, and fertilizer. Though they are happy to make their presence known in the reel mower's sector. Their models tend to be easy to use and are built to last. Many use special heat-treated cutting blades and strikes plates to help reduce long term concerns about blade erosion, while also imbuing them with superior resistance to dings and chips from accidentally striking things like sticks or acorn caps.
$144.98
in stock
12 new from $144.98
12 used from $128.42
as of August 31, 2023 3:12 pm
Sun Joe
Sun Joe is somewhat of a newcomer in the world of lawn mowers. While they are better known for their electric models, their reel mowers are also very attractive. Most of Sun Joe's models feature large wheels with ball bearings, which makes them very easy to negotiate across bumpy, uneven lawns. Many of their reel mowers also have large grass bin collector accessories, which is a great way for removing grass clippings from your lawn to prevent thatch buildup.
$79.00
in stock
as of August 31, 2023 3:12 pm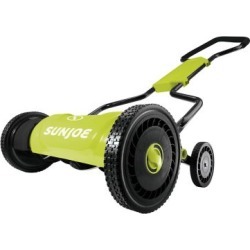 Other Great Push Mower Options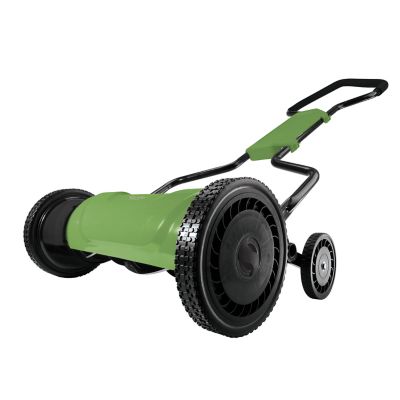 Conclusion
Reel mowers are enjoying a vigorous renaissance thanks to the fervor of the green movement as well as major improvements in lightweight construction, performance, and overall ease of use. Some high end manufacturers have long been offering quality reel mowers, as well as newer manufacturers with value-priced mowers that are positioned for entry-level users.
Reel mowers are certainly green, and you might be surprised to find that they take a lot less effort to operate than you imagine. Though for people who are still looking for a weekly workout that's on par with a vigorous evening walk, the reel mower might still be a great fit!