Riding Lawn Mower Reviews
If you have a big yard and you don't want to put in all the back-breaking work of cutting the lawn with a push mower, then chances are you're in the market for a riding lawn mower. Though this is a crowded field, and finding the best riding lawn mower for your lawn can feel a little bit daunting.
There are three different types of riding lawn mower to consider. Each has its own strengths and weaknesses.
Rear Engine Riding Lawn Mowers
Lawn & Garden Tractors
Zero Turning Radius Riding Lawn Mowers
Even within each of these riding lawn mower niches, there are several key factors to consider and important questions to answer when finding the best one for you.
Just Show Me The Mowers
Rear Engine Riding Lawn Mowers
Rear engine riding lawn mowers tend to give a comfortable ride. The weight of the engine is over the drive tires which also helps with handling. They don't have the nimbleness of a zero-turn radius riding lawn mower, but they are much more affordable.
This makes rear engine riding lawn mowers a good option for mowing a lawn with a lot of landscaping features and tight turns. A lot of rear engine riding lawn mowers are smaller than their lawn tractor siblings, which might also make them a good option if you don't have a lot of room in your garage or garden shed.
One potential drawback of rear engine riding lawn mowers is that they are slower than the other two types of riding lawn mower which doesn't make them ideal for cutting a large yard of an acre or more.
Most rear engine riding lawn mowers don't come with any sort of tow bar, and even the ones that do can be a little awkward when trying to pull something heavy, as so much weight biased to the back of the lawn mower takes some of the traction away from the front tires. If you like to do your own aerating with a tow-behind trailer, or you want to haul landscaping bricks in a trailer, then a rear engine riding lawn mower isn't the best choice.
Lawn & Garden Tractors
Lawn & Garden Tractor riding lawn mowers are more than just grass cutting machines. They tend to have a fair amount of utility and versatility to them. They have engines in the front that divert power to the rear-drive tires. They are designed to be lawn & garden workhorses, with tow bars and the ability to tow trailers and other heavy objects.
They're a great option if you like to do things like pulling an aerator, a leaf trailer, or you need to drag a log out of the woods. They also tend to have enough power to tackle steep hills, which is great for lawns with an incline.
The drawback here is that they're not all that nimble. If you have a bunch of trees and landscaping features in your lawn, chances are a lawn and garden tractor is going to struggle to dance around them. You will probably need to go back and clean up the tighter turns with a weed whip afterward.
Zero Turning Radius Riding Lawn Mowers
Zero Turn riding lawn mowers are designed to be incredibly nimble, as well as comfortable. They're high-performance machines that are often engineered to appeal to professional lawn care companies. This also translates into superior material and build quality.
As the name implies zero turning radius riding lawn mowers can turn on a dime in a 360-degree radius. Most have a top-end speed that lets you chew through large swaths of lawn in a short amount of time. Some can even get up to 8 to 10 miles per hour.
Of course, the drawback here is that all that high-end build quality and meticulous engineering comes at a price. Zero-turn radius riding lawn mowers are the most expensive riding mower on the market. Still, if you have a large yard with trees and landscaping features to deal with.
Does A Riding Lawn Mower's Deck Size Matter?
Riding lawn mowers often have the chassis, frame, and robust build quality to support massive cutting decks. Some even have dual blades to help you chew through giant swaths of grass in a single pass. Your first inclination might be to simply assume that bigger is better, but this isn't always so.
Ideally, you want to match the size of the deck to the size of your yard as well as the characteristics of your lawn and perhaps your garden. On the face of it, the larger the deck size is in inches, the more lawn it can chew through in a single pass. If you have a wide-open lawn with little to no landscaping features, going big can be a good idea.
If you have a lot of landscaping and trees to contend with, or you are looking at a lawn & garden tractor to also help out with other tasks, you might want to consider you're a slightly smaller deck. Especially if you need to move a lawn tractor through a garden gate or two.
What's Size Lawn Mower Deck For A Half Acre Lawn?
If you want a riding lawn mower to help you make quick work of a half-acre lawn, then you probably want to target one with a deck size of 40 to 45-inches. Though if you have trees and other landscaping features to contend with you might want to consider going a little smaller.
What Size Lawn Mower Deck For A 1 to 2 Acre Lawn?
If you have a larger yard of an acre or more than you might want to prioritize a model with a 42 to 48-inch cutting deck. This will let you chew through large swaths of lawn in a single pass, yet still, be able to work around trees and landscaping beds. Especially if you are talking about a zero turning radius riding lawn mower.
Once you get over 2 or three acres, then you typically want to go as large as possible. If you don't have to worry about trees and tight turning retaining walls, you could prioritize a cutting deck of 48 to even 54 inches.
What Size Cutting Deck Will Fit Through A Garden Gate?
One of the biggest struggles with lawn & garden tractors is getting them through a garden gate. This can turn a simple task, like hauling in fresh soil or hauling out weeds into a monumental chore. Most garden gates are around 36-inches wide, but a 36-inch cutting deck is pretty small for a riding lawn mower to effectively cut the lawn promptly.
There are two ways around this. The first is pragmatic and you can simply increase the size of your garden gate to match the cutting deck of your lawn & garden riding lawn mower. The other is to prioritize a riding garden tractor with a deck that easily detaches. John deer, Kabota, and Husqvarna sometimes offer models with these exact features. That way when you want to use it, you can detach the deck in a safe spot and pull the tractor right into the garden to tow or pull something.
Is There A Relationship Between Deck Size And A Riding Lawn Mower's Horsepower?
Here again, a bigger is better mentality isn't all that it's cracked up to be. While a wider deck may technically cover more square footage with every pass, you also need to make sure that you have enough horsepower to move the blades at high RPMs as well as powering other things like a hydrostatic transmission.
Some manufacturers offer two models with the same engine and horsepower, but different size cutting decks. In a situation like this, you will likely see better-cutting performance from the one with the smaller deck. Especially if you have thick grass in your lawn like Bermuda or Buffalo grass.
Which Is Better A Hydrostatic Or Automatic Transmission?
In the past, automatic transmissions were heralded as the no-nonsense solution to the sometimes confusing operation of manual transmissions. You put your foot down on the accelerator or brake and the gearing system of the automatic transmission did the thinking for you.
To this day there are still many quality riding lawn mowers that have automatic transmissions in charge of transforming the horsepower of the engine into viable torque and wheel traction. Though there are a few potential problems with them.
If you ride the mower hard, or you have to tackle a lot of hills, it can wear out, or be prone to mechanical problems over time. Not to mention you have to worry about maintaining the transmission fluid. In extreme conditions, an automatic transmission might even be prone to overheating.
Automatic transmissions also tend to have more lag in the responsiveness. On a wide-open stretch of lawn, you won't notice much of a difference. It's when you have to slow down to make deft turns around trees and retaining walls that you might be a little frustrated with the response time between when you press down on the pedal and when the transmission puts the actual power down.
Hydrostatic transmissions represent the next natural evolution in riding lawn mower transmission systems. They borrow from hydraulic technology to be immediately responsive as well as putting more of the power down for maximum performance. They also tend to be much easier to maintain, as you don't have to worry about topping up fluids or worrying about over-heating.
With a hydrostatic transmission, you are getting the most out of the power produced by the lawn mower's engine. While you do pay a little bit more for a riding lawn mower with one, it's worth the money.
If there is a possible complaint with hydrostatic transmission is that it can sometimes bog down if you have the blades engaged while going up a hill or you are trying to mow in reverse to clean up a patch of grass you accidentally left behind. Though riding lawn mower manufacturers have caught on to these problems and newer models are engineered with dual hydrostatic transmissions as well as other special features like "Mow in Reverse."
What Is Mow In Reverse?
Mow in reverse is a relatively new feature on riding lawn mowers. How it's engineered can vary slightly from one manufacturer to the next. With most models, you press a special button or lever to engage the mow in reverse function. You can then back up with the bladed of the cutting deck engaged. Though this is only meant to be a short-term operation, and not for cutting the grass in reverse for an extended distance.
Are Bagging Riding Lawn Mowers Good?
A bagger attachment on a riding lawn mower essentially diverts the harvested grass clippings to a special chute instead of the side discharge. They are then deposited in one or two grass collection bins. You can then put the grass clippings in your garden or compost pile, rather than letting them dry out into thatch that can choke your turf.
Are Mulching Riding Lawn Mowers Good?
A mulching feature is another way to address the problem of thatch build-up. When a riding lawn mower is set up to mulch, it essentially chops the harvested grass clippings into tiny pieces that decompose easily back into the turf, rather than drying out into thatch. It's also a nice way to give your lawn a little boost of natural nitrogen as the tiny grass particles decompose.
Are Riding Lawn Mowers Hard To Maintain?
Riding lawn mowers do take a little more maintenance than say a gasoline push or walk-behind lawn mower. They do need periodic or seasonal oil changes, as well as in-season maintenance. This includes things like cleaning dust, pollen, and grass clippings out of the air filter as well as checking the tire pressure. You also need to keep the belts, bearings, and other moving parts properly lubricated.
What Do Anti-Scalping Wheels Do On A Riding Lawn Mower?
You might notice small guide wheels on the side of a riding lawn mower's deck to help keep it in balance with the natural contours of the lawn. With some riding lawn mowers, these wheels are integrated with an anti-scalping feature that prevents the riding mower's cutting deck from going below a minimum height. This helps prevent the cutting deck and blades from accidentally contacting sticks, rocks, or emergent tree roots in the lawn.
How Much Fuel Does A Riding Lawn Mower Use?
This can vary depending on the size of the engine and the weight of the mower as well as the operator. In general, the average riding lawn mower with a 2-gallon fuel tank will be able to cut for roughly an hour to an hour and a half before needing to be refueled. Though this is only a ballpark estimate.

The Best Riding Lawn Mower Manufacturers
Riding lawn mowers are incredibly popular. This means it's a little bit of a crowded market, rich with makes and models to suit any size yard. The following is a list of some of the best manufacturers, both old and new.
Craftsman
Craftsman has a very strong reputation for build quality and superior warranty coverage. Their broad gasoline lineup of riding lawn mowers are typically easy to start. They have several models that are engineered with special features like electric start or an automatic choke for easy ignition. They also offer accessories to transform a side discharge riding mower deck into a mulcher or a bagger.
Cub Cadet
Cub Cadet is another very strong name in the lawn mower industry. Their broad line of lawn mowers appeals to both the average consumer as well as lawn care professionals who prioritize a commercial-grade lawn mower. Their entry and mid-level riding lawn mowers have a slightly higher price tag on average. Though you do end up getting a superior unit with the high-end build quality and sound engineering.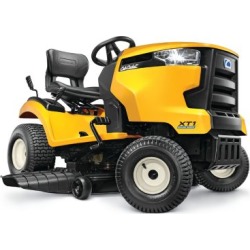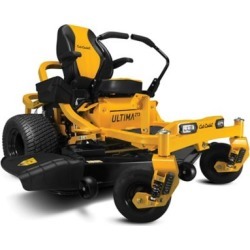 Honda
Honda has a very strong reputation for offering high-quality riding lawn mowers that are engineered to start easily, run for a long time. They also back most of their riding lawn mowers with superior warranty coverage, which further makes a strong statement about their build quality. In fact, their lineup of small gasoline engines is so well-known for their build quality that some other manufacturers outsource them in competitor models! With Honda, you sometimes pay a little extra for the brand name, but you'll see a strong return on your investment with a high-quality riding lawn mowers.
Husqvarna
As one of the stronger international lawn equipment and power tool brands, Husqvarna is well-known for its impressive build quality and sophisticated engineering principles. Their riding lawn mowers tend to start easily and are easy to maintain. They also back most of their models with superior warranty coverage, as a statement of confidence in their own build quality.
John Deere
John Deere has a reputation for superior build quality and versatility in their lawn & garden tractors and riding lawn mowers. They are incredibly popular in the US marketplace and draw a large loyal following. Many of their lawn & garden tractors are designed with cutting decks that are easy to detach for times when you need them to pull double duty helping out in the field, forest, or garden. Many of their models start out with a solid warranty program.
Poulan Pro
Poulan has a reputation for offering riding lawn mowers that have a friendly price tag. Yet they don't skimp on build quality. There riding lawn mower lineup maybe doesn't have a lot of bells and whistles, but they still back most of their products with a strong warranty program. This is both a statement of overall build quality, as well as ensuring that you see a hearty return on your investment.
Ryobi
Ryobi is another electric power tools company that has set deep roots into the electric lawn mower market. They have a well engineered electric lawn tractors with superior build quality throughout their line. Ryobi's entry-level electric lawn tractors tend to be a great value, and their high-end electric lawn tractors often carry robust warranty protection coverage.
$4,300.00
in stock
as of July 30, 2022 4:27 pm
$6,561.95
in stock
as of July 30, 2022 4:27 pm
Snapper
Snapper arguably made their name selling affordable, high-quality riding lawn mowers. This continues to show through today in a wide range of models that are easy to operate, easy to start, and relatively straight forward to maintain. They also have some smaller rear engine riding lawn mowers that are nimble and a great option for people who need a riding lawn mower to take care of a relatively small lawn. There is a lot of value throughout their line, which makes them one of the better names to start shopping for an entry-level riding lawn mower.
Toro
Toro has decades of experience developing and selling a wide line of durable riding lawn mowers with a friendly price tag. Their models tend to be easy to start and maintain, while also using heavy-duty components. They also make it a point to back many of their high-end riding lawn mowers with superior warranty coverage.
Troy-Bilt
Troy-Bilt has built spend years cultivating a strong reputation for offering durable riding lawn mowers. While some of their models tend to be a little bit heavier than the closest competition, they have the power to handle it. This robust build quality also speaks to their overall build quality. They further back many of their best riding lawn mowers with a strong warranty.
Other Great Riding Mower Choices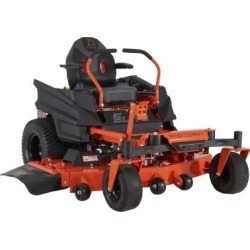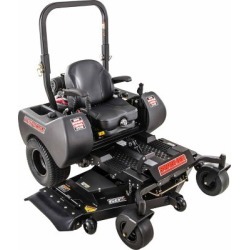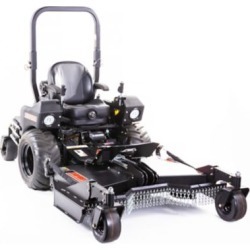 $2,899.95
out of stock
as of July 30, 2022 4:27 pm
Conclusion
There certainly are a lot of great riding lawn mowers on the market today offered by high-quality manufacturers who know what they're doing. If you're having a hard time choosing the best riding lawn mower for your yard, you might want to start by deciding what type of riding lawn mower you need.
A rear-engine riding lawn mower might be ideal if you have a yard that's less than an acre, but you occasionally need to weave around trees, fences, and landscaping features. If you need a lawn mower that can chew through a slightly larger yard, and you want a unit that can help out with other yard work, you might want to give a good hard look at a lawn & garden tractor. If you want to dance around your yard, or you need a commercial-grade lawn mower, then a zero turning radius riding lawn mower might be the best for your expansive yard or lawn care business.